Coronavirus Travel Updates
Are you looking for information about traveling to Thassos during the Covid pandemic?
Click here to learn more!
Saliara Beach
Go-Thassos Website
The Internet
Administrator
Posts: 2,286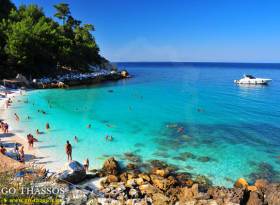 Saliara Beach
Experience Thassos... Greece's Best Kept Secret! Surrounded by the crystal blue waters of the Aegean Sea, near the northern coast of Greece, sits the island of Thassos. Here you can immerse yourself in a breath-taking natural environment and get to know a laid-back culture that warmly welcomes every visitor. Treat yourself to a truly unique and unforgettable holiday in Greece... Go Thassos!